Learn our proven principles and practices at an upcoming DAY OF DEVELOPMENT.
---
Positive Team Trainings / Workshops:
to Help You Build a Stronger, More United, Connected Team.
Based on the proven principles from Jon Gordon's bestselling book, The Power of a Positive Team, we'll share strategies and best practices to help you build a stronger, more united and connected team. During our full-day public training event, facilitated by VP of Consulting – Amy P. Kelly with guest appearance and book signing with Jon Gordon (schedule permitting), you'll discover how to:
Create a positive team culture fueled by a shared vision and greater purpose
Activate the competitive advantage of positivity in day-to-day teamwork
Generate team alignment and engagement
Address and remove team negativity
Improve team communication and clarity
Enhance team grit to overcome challenges and create solutions
Build team trust and unity
Foster team caring and inclusivity
Drive continuous improvement
Leave a team legacy of greatness
You'll also leave with an action plan to improve your team and organization and create positive results!
Contact Us to Learn More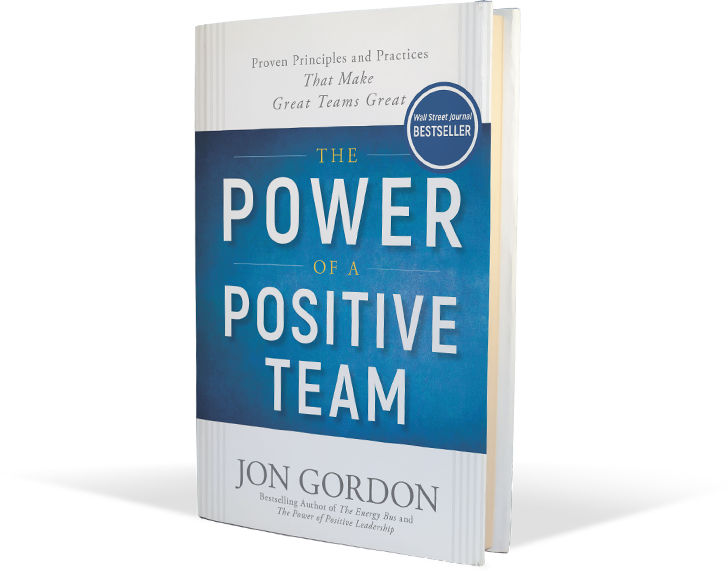 Become a Certified Trainer
---
Develop positive teams within your organization or beyond!
Become a Certified Trainer and bring The Power of a Positive Team's proven model, principles and practices to others. This certification will provide you with everything you need to deliver a Power of a Positive Team training or workshop. Trainers will experience the 1-day public training followed by a second day of training for trainers only where you'll be shown how to deliver the material. Upon completion, you will receive access to all materials and resources electronically, in addition to support through our coaching team.
Learn More About Becoming Jon Gordon Certified Here!
Sign Up For Our Next Certified Trainer Training Here
Certified Trainer Upgrade
---
Become a Jon Gordon Certified Trainer
Amy P. Kelly

VP of Consulting

Jon Gordon

Author / Speaker
Endorsements
---

We all know it is all about talented people 'working together' to create something very special: government, business, sports, and life. Jon Gordon really captures the power of positive 'working together principles and practices' and includes a positive disciplined process and expected behaviors that all teams can use immediately!

Alan Mulally
President and CEO of Boeing and Ford, retired

I love this book by my good friend Jon Gordon. My experience has taught me that a team can do great things but a positive team can do extraordinary things. Jon does a great job of articulating so many different examples of this. I have no doubt the lessons in this book will help you and your team reach your potential.

Dabo Swinney
Head Coach, Clemson Football

Jon and his principles have been very helpful to me and my team. I encourage you to read this book and discover the keys to building a great team.

Dave Roberts
Manager of the Los Angeles Dodgers

Jon has a special gift for articulating the principles and values that help guide great teams and organizations in a positive authentic way. These values are instrumental in helping develop a connected environment. There is something special about being a part of something bigger than yourself and the star of the team is the team. Jon's books have been especially helpful and influential for the Rams and how we want to operate daily.

Sean McVay
head coach of the Los Angeles Rams